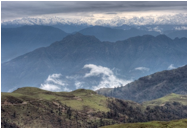 Tribal Tour -3
Starting from Bhubaneswar ending at Raipur
Day 1 – Bhubaneswar
Arrival at Bhubaneswar and transfer to Hotel. Half day city tour of Bhubaneswar covering Khandagiri and Udayagiri caves and the tribal museum. Evening we will make the power point presentation of Odissan History and tribal culture, also an interaction with the experts in the field of History, Astrology, Architecture and Tribal development, followed by Dinner. Overnight at Bhubaneswar. Day 2 – Bhubaneswar AM: After breakfast, full day city tour of Bhubaneswar covering Temples, Parasurameswar Temple, Mukteswar Temple Complex, Rajarani Temple, Brahmeswar Temple Complex and Lingaraj Temple complex (Non Hindus are not allowed inside the Lingaraj temple) from 7th Century A D to 11the Century AD. PM: After lunch visit The Hirapur 64 Yogini Temple and Dhauligiri, the Ashokan Rock edicts of Ashoka of the 3rd century B C. PM:Evening Odissi Dance followed by Dinner. Overnight at Bhubaneswar.
Day 3 - Bhubaneswar – Konark – Puri (130 kms/ 3 hrs)AM:
After breakfast drive to Puri enroute visiting Pipli (Appliqué village) and Konark (The Sun Temple) A World Heritage site. This is the one of the best architectural marvel of Odisha built by King Langula Narasingh Dev in the 13th century AD. This Temple was built in the form of a moving chariot scientifically built to calculate the time of the day. Here each stone speaks their own language. Also visit the Chandrabhaga beach and fisher man's activities. Overnight at Puri.
Day 4 – Puri
After breakfast full day Visit of Puri covering Jagannath temple, Badadanda (Local Market in front of the temple),Narandra Tank, Gundicha Mandir and Swargdwar. PM: After lunch visit Raghurajpur, the artisan's village(Patta painting and Palm leaf writing), Gotipua Dance can be arranged in the village to show how dance is associated in our day today life or we can arrange the dance in the hotel. Over night at Puri.
Day 5 – Sunday – Puri – Chilika Lake – Gopalpur (240kms/5 hours)
After breakfast drive to Gopalpur On Sea, enroute stop at Chilika Lake,(The largest brackish water lake and the winter home for migratory birds) take a boat ride to visit the Dolphin Point and the Chilika Mouth. Overnight at Gopalpur.
Day 6 – Monday – Gopalpur – Rayagada (280kms/ 7 hours)
After breakfast Drive to Rayagada visiting Padmanavpur Textile village, Taptapani hot Sulpher spring. If interested we can visit Jirang Tibetan Monastery. It is going to be the one of the largest Tibetan Buddhism learning center of Asia inaugurated by Dalai Lama. Packed Lunch will be served on the way. Overnight at Rayagada.
Day 7 - Tuesday-Rayagada – Kothgarh – Rayagada (180kms/5 hours)
After breakfast excursion to the Kothgarh tribal area. Visit the Kothgarh weekly market of the Kuttiya Kondh and Rasul Kondh tribes. The most numerous, they speak Kuvi, a language derived from the Dravidian strain of Southern India. Human sacrifice has now been replaced with animal sacrifice, offering fresh blood to their supreme goddess represented by a piece of wood or stone to ensure fertility of the soil. The members of this tribe still use bows and arrows to protect themselves from wild animals. Packed lunch will be served on the way. Overnight at Rayagada
Day 8 – Wednesday-Rayagada – Chatikona – Jeypore (260kms/6 hours)
After early breakfast drive to Chatikona to visit Dongariya Kondh weekly market. These tribesstay on the slopes of the Niyamagiri hills and depend on Agriculture and Horticulture. The Dongria live in villages scattered throughout the hills. They believe that their right to cultivate Niyamgiri's slopes has been conferred on them by Niyam Raja, and that they are his royal descendants. They have expert knowledge on their forests and the plants and wildlife they hold. From the forests they gather wild foods such as wild mango, pineapple, jackfruit, and honey. Rare medicinal herbs are also found in abundance, which the Dongria use to treat a range of ailments including arthritis, dysentery, bone fractures, malaria and snake bites.Back to Hotel for Lunch. PM: After Lunch drive to Jeypore en-route visit a few roadside villages.Overnight at Jeypore
Day 9 – Thursday- Jeypore – Onukudelli – Jeypore (180kms/5 hours)
After breakfast visit the tribal Market of the estimated 6,000 members of the fierce Bondas of Tibetan-Burmese origin. They live in the remote hills and keep themselves isolated. They grow rice by shifting cultivation and keep domesticated cows and goats. The Bondas may only be seen when they come to trade at the local market, and we have timed our visit to coincide with the weekly market. The Bonda women are identifiable by their bead necklaces, striking brass and silver necklets and their clean shaved heads(Bold), decorated with plaits of palmyra leaves. We will also visit the colorful Godabas, a Munda tribe who speak in the Austro-Asiatic dialect. Overnight in Jeypore.
Day 10 – Jeypore – Jagadalpur. (120kms/ 3 hrs)
After breakfast drive to Jagadalpur to visit the Kotpada Textile village, where the people are famous for using vegetable dye and cow dung paste to colour the thread. PM: Afternoon visit of the Anthropological Museum. Evening free in the Market. Overnight at Naman Bastar.
Day 11 – Saturday –Jagadalpur
after early breakfast a visit to the rich forests of the Kanger Valley National Park, the enchanting Tirathgarh waterfall and the extraordinary stalactite and stalagmite caves. Kanger retains the original feel of the mighty forests that once covered this entire region. You will picnic in the natural habitat of Leopard, Tiger, Sambhar, Bison and the Bastar Hill Myna. Here too are forest tribal people in their natural habitat. There will be time also to explore some of Jagdalpur's unique handicrafts. Afternoon visit the Chitrakoot water fall. Overnight at Naman Bastar.
Day 12 – Sunday - Jagadalpur
After breakfast full Day visit to Maria village and enjoy a Baison Head dance performed by the villagers. Afternoon free in Market. Overnight at Naman Bastar.
Day 13 - Monday - Jagadalpur – Kanker. (160kms/5 hrs)
After breakfast drive to Kanker visiting Maria & Muria tribes. Enroute visit of Kondagaon Dokra Metal work village and Sathi NGO famous for terracotta work. Depending on weather Conditions, a barbecue dinner can be arranged in open air in authentic Bastar style with cultural performance of the tribal people in Kanker Palace.
Day 14 -Tuesday- Kanker Raipur
on ward destination.(140kms/3 hours)Drive to Raipur airport to catch the flight for on ward destination.Tour Ends