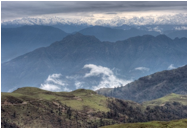 The Himalayan Nepal Tour
09 Days / 08 Nights

Kathmandu is the capital city of Nepal. It comprises the three ancient cities of Kathmandu, Patan and Bhaktapur, which were once independent states ruled by the Malla kings from the 12th to the 18th centuries. The three cities house seven UNESCO World Heritage shrines . The valley is also home to hundreds of other exquisite monuments, sculptures, artistic temples and magnificent art – reminders of the golden era in Nepal's architecture.

Day 1: Arrive Kathmandu
Assistance on the arrival. Traditional welcome with garlanding and hand over stamped picture postcard to each guest on the arrival at the airport. Transfer to Hotel. Overnight hotel.

Day 2 : Kathmandu : Visit Boudhanath/Swayambunath/Durbar Square
After an early breakfast, leave for sightseeing tour of Boudhanath it is the world's largest stupa and of Tibetan Buddhist Culture in Nepal and visit to Swayambunath a 2500-year old site where, it is believed, the Radiant Lotus of the valley-mythology, settled when the water was drained by Manjushri, the god of Wisdom. Afternoon visit Kathmandu durbar square, Hanuman Dhoka, the ancient royal residential quarter, Temple House of Kumari, the vestal virgin or the living goddess. Walk around the local bazaars then drive to Hotel. Overnight hotel.

Day 3 : Kathmandu – Chitwan National Park (126km/4hrs approx)
Early morning, drive to Chitwan and transfer to hotel . Chitwan literally means "heart of the jungle". In recent years Chitwan tops the list of things to do in Asia. It is a truly wildlife adventure of a different kind jungle safaris on elephant back or jeeps, bird watching , canoe rides and jungle walks.. Evening Tharu Cultural Dance show. You will have dinner and Overnight stay in Chitwan.

Day 4 : Chitwan National Park
After breakfast. Canoe ride in the Rapti River, (an good opportunity to see Bird and two rare species of crocodiles; Marsh Mugger as well as fish eating Gharial.) Jungle Walk and visit elephant bathing center. Afternoon: Lunch. Elephant Safari (an opportunity to see four different kinds of deer, rhinoceros, wild boar, monkey, leopard, sloth bear also you will also encounter many other smaller mammals that have made Chitwan their home.) Evening: Sun set view from the bank of Rapti River, slight show or culture program. Night: Dinner and overnight at hotel.

Day 5: Chitwan National Park – Pokhara (163 km / 3h:30 min approx.)
After breakfast, visit to the Government Elephant Breeding Centre or then drive to Pokhara.Arrive Pokhra Arrive in Pokhara .Pokhara's bewitching beauty has been the subject of many travel writers. Its pristine air, spectacular backdrop of snowy peaks, serene lakes and surrounding greenery make it 'the jewel in the Himalaya', a place of remarkable natural beauty. With the magnificent Annarpurna range forming the backdrop and the serenity of three major lakes – Phewa, Rupa and Begnas – Pokhara is the ultimate destination for relaxation. In the afternoon visit to Peace Stupa, nearly one and half hour hiking to the top then descend to the lake Phewa for boating. Overnight Hotel.

Day 6: Pokhara : Visit Pokhara Valley
After breakfast the sightseeing starts inside the valley of Pokhara. The sightseeing places are as follows: Old bazaar of Pokhara city, Bindhayabasini temple, Seti George, Buddhist monastery, Pokhara regional museum which displays the traditional things of western Nepal, Devis Fall, Gupteshwor Cave, Tibetan refugee camp, Barahi temple which lies in the central part of the lake Fewa etc. Overnight Hotel.

Day 7: Pokhara – Dhulikhel (229km/4hrs approx)
After breakfast, you will drive back to Kathmandu Continues drive to hillside call Dhulikhel it is best view point for Himalayas sunrise and sunset observations.. Overnight stay at Dhulikhel.

Day 08: Dhulikhel – Bhaktapur (45 min drive) – Kathmandu (20 min. drive)
After breakfast drive to BHAKTAPUR DURBAR SQUARE (UNESCO World Heritage Site) where you will witness unique culture and finest display of craftsmanship. Lion Gate, Golden Gate, Art Gallery, Statue of King Bhupatindra, Nyatapola Temple and fifty-five windowed Malla Palace are the living prides of Bhaktapur. Further drive to to Patan to explore Patan Durbar Square, Mahaboudha Temple, Kumbeshwor temple, Krishna Temple, Golden Temple and many other places of Patan. You will also get to see handicraft centre in Patan then drive you to Hotel. Overnight Hotel.

Day 09:Kathmandu – Bagmati – Kathmandu (10 Min. drive oneway)
After breakfast visit Bagmati. It is considered a holy river by Hindus and Buddhists. A number of Hindu temples are located on its banks. The importance of Bagmati also lies in the fact that Hindus are cremated on the banks of this holy river, and Kirants are buried in the hills by its side. According to the Nepalese Hindu tradition, the dead body must be dipped three times into the Bagmati River before cremation. The chief mourner (usually the first son) who lights the funeral pyre must take a holy river-water bath immediately after cremation. Many relatives who join the funeral procession also take a bath in the Bagmati River or sprinkle the holy water on their bodies at the end of cremation. The Bagmati River purifies the people spiritually. Transfer to Airport in the evening after dinner to proceed further destination.