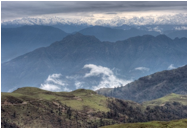 Darjeeling & Sikkim Treks
DARJEELING AND SIKKIM TREKS
Goecha La Trek
Altitude: 4939 meters
Trek Duration: 11 Days
Grade: Moderate to difficult
Best time to Trek: The majestic razor sharp snow clad mountains are best visible in the months of March – May and mid Sept to November
Base Camp: Yuksom

There is no better way to experience Sikkim then to tower the spectacular Goecha La Trek. Standing at an altitude of 4939 meters, this popular trek takes you to some spectacular landscape of Himalayan ranges, surrounded by fresh cold breeze and silence in the wilderness, this trek is different, worth cherishing because you not only get to see Kanchenjunga but other 14 big summits as well like Mt. Pandim, Mt. Thingchinkhang, Mt. Jopuno, now that's a lot of eyes popping and rubbernecking!
It may sound alluring and blissful but the Himalayas hold extreme harsh weather and this trek is generally considered to be under moderate to difficult level. Goecha La is one of the most preferred destinations for trekkers and it is the pride of Sikkim and upper ranges of Bengal and North-East.
 Rhododendron Trek
Altitude: 1728 meters
Trek Duration: 10 to 11 days
Grade: Easy to Moderate
Best time to Trek: April to mid-May
Base Camp: Yuksom

Rhododendron Trek is one of the most up to the minute treks. This trek has scenery worth paying attention to as it takes us to delicate Himalayan beauties that lead us to scented broken path filled with various flowers in colors and size. This trek covers some of the most beautiful Rhododendrons in Sikkim, it is an ideal trek best suited for those who are interested to explore beautiful nature and the Himalayan slops.
Spring experiences ablaze and brilliant blossoms both in low and high altitude, the slope covers with Arboreum, Falconeri, Barbatum Campanulatium and Hodgsoni species of the Rhododendron in its brilliancy. The Rhododendron Trek takes you through beautiful meadows and lush garden of flowers to few humble villages of the Sikkimese people. A sight not to be missed is the Kanchenjunga range adding spectacular beauty of this trek.
Walk through the Oak and Rhododendron forests and enjoy panoramic view of the beautiful landscapes of neighbouring ranges. See many species of birds that often fly around the Rhododendron valley during the months of spring.
Dzongri Trek
Altitude: 4020 meters
Trek Duration: 8 to 9 Days
Grade: Easy to moderate
Best Time to Trek: Mid-March to May and September to November
Base Camp: Yuksom
Situated at an altitude of about 4020 meters in Sikkim, this trek offers spectacular view of the great Kanchenjunga and Mount Pandim from a very close distance. Along the hiking trails you will get to see some scenic parts of Sikkim. Lush valleys and wide panoramic view of the range is something that will take your breath away. This route follows picturesque trails with vibrant flowers and vegetation and gorgeous valleys like the Rhododendron, magnolia pine, maple and oak forests.
Effortless of any hard work this trail is best suited for beginners as it sails you to mesmerizing spots. Dzongri Trek starts from Yuksom Village and it crosses small scenic villages like Tshoka Village where you can rest before you ascend again
 Sandakphu Trek
Altitude: 3636 meters
Trek Duration: 8 to 9 Days
Grade: Easy to moderate
Best time to Trek: It is best visited in the months of April and May to see blooming flowers and the months of October to December to witness its scenic beauty.
Base Camp: Mane Bhanjang
Get a panoramic view of the majestic Kanchenjunga, Mount Everest, Lhotse and Makalu as you walk up the beautiful trails of Sandakphu. The literal meaning of Sandakphu is the height of the poison plant what pose for its poisonous aconite trees. The entire trek is surrounded with varieties of Rhododendron which is one of the main attractions and it is wildly found between the months of March to May and mid-September to November. Some 58 kilometres from Darjeeling this trek starts from Mane Bhanjang and the trails leads to tiny villages like Meghma, Tonglu, Tumling, Garibas, and Kala Pokhari finally leading to Sandakphu. The entire trek takes 4 to 5 days to cover and can shelter in these adoring villages.
At a height of 3636 meters, the mountain of paradise glimmer in its snow clad mountain tops. The sublime Sandakphu is the halt point of several trekking routes in the Darjeeling-Sikkim belt. On a clear sunny day the highest peak in the world can be witnessed from Sandakphu. Meandering narrow path run along the Indo-Nepal border and one can have an ultimate experience of the cultural backdrop of Sikkim.
Varsey Trek
Altitude: 3060 meters
Trek Duration: 7 to 8 Days
Grade: Easy to moderate
Best time to Trek: April and May get awe-inspired by vibrant red and pink rhododendron spread across the hills and valley.
Base Camp: Damthang
Enchanting locals and magnetic mountain tops Varsey offers just what you need. It's wonderful Himalayan trek is filled with red and pink rhododendrons and offbeat trekking trails of Sikkim. This no-sweat trek is best suited for the amateur mountaineers, and a nature lover where getting close to nature is a feeling of thrill and bliss.
The trek takes you up to a height of 3300 meters and is worth a walk for a weekend short trip and it is surrounded in beautiful mosses and varieties of flora and fauna. A bloom of shades fills the nature as you walk the scene path alongside vibrant colours of the hills and valleys.
The trek is stippled with flaming rhododendron and a sanctuary of high altitude birds. Some 17 km drive to Damthang and 12 km steady trek to Varsey is all it takes. Around 3060 m in elevation and located near Indo-Nepal border this trek will leave you coming back for more.
 Kanchenjunga Base Camp Trek
Altitude: 5086 meters
Trek Duration: 11 to 12 Days
Grade: Moderate to difficult
Best time to Trek: March to May or if you like snow clad mountains then between September and November are the month to be.
Base Camp: Yuksom
One of the most preferred treks in Sikkim, Kanchenjunga trek is full of efforts yet it offers incomparable view of Mt. Kanchenjunga. Decamp from Yuksom, the trail wander through Tshoka, Thangsing, Dzongri, Lamune, Goecha La, Samiti, and Kokchorung. It covers the Kanchenjunga Biosphere Reserve, it showcases colourful flora and an opportunity to view different bird species.
The base itself is considered as one of the most awe inspiring camps, it ascends you to some overwhelming trails of the Himalayas. This trek may be a little challenging for non-adventurers as it takes them to some steep sides of the Himalayas. The trekkers will have the mind-boggling views of the Mt Kanchenjunga and other captivating and sky-high peaks of the world.
Singalila Trek and Goecha La Trek

Altitude: 4940 meters
Trek Duration: 18 to 19 Days
Grade: Moderate to difficult
Best time to Trek: The best month to visit Kasturi is between the months of March – May and September – November.
Base Camp: Mane Bhanjang
This trek takes you to some of its picturesque locations covered in beautiful tea gardens, valleys, mountain peaks and more. The Everest Trek covers the Barsey Rhododendron Sanctuary which shows its colourful flowers and majestic mountain views of the Kanchenjunga and Everest. The Oak tree and beautiful Rhododendron complements the hills of the Himalayas.
Enjoy the great view of the mighty Kanchenjunga Range and set your eyes to see many rare birds flocking above you. The trail winds its way through the meadows as you ascend you will notice the transition from dense lush forest to vibrant rhododendron forest. This trek is best suited for group trekking more the merrier.
Dzongri – Goecha La Trek
Altitude: 4020 meters and 4939 meters respectively
Trek Duration: 10 to 11 Days
Grade: Moderate to Difficult
Best time to Trek: The best month to visit Kasturi is between the months of March – May and September – November.
Base Camp: Yuksom
This particular trek has superb views of the Kanchenjunga Range; the trail follows the Rathong valley and Bakkhim with an amazing view overlooking the steep slopes of the Himalayas. It offers trekkers great opportunity to see the Himalayan range up close.
The trail to Dzongri and Goecha La follows the Tshoka trails leading to Phedang and further to Dzongri, which is situated at an altitude of 4020 m and hold breath-taking view of the ranges and one can get an opportunity to see rare birds. Goecha La offers the trekkers mesmerizing mountain peaks like Pandim, Kanchenjunga etc. The trail follows wonderful valleys and forests until it reaches its highest point.
Green Lake Trek
Altitude: 5050 meters
Trek Duration: 16 days
Grade: Moderate to difficult
Best time to Trek: April or October
Base Camp: Lachen
One hidden gem of the Himalayas that comes under the least explored destinations in Sikkim is the Green Lake Trek. It is surrounded with breath-taking scenery and sharp edged mountains and colourful meadows with rich biodiversity. A true paradise proves to be one stop trekking expedition for all visitors and nature lovers.
This paradise allows the visitors to see misty Kanchenjunga and other Himalayan abodes. The winding trails revel stunning landscapes and meadows, its rare orchids and vibrant panoramic scenes will be the talk of the entire trek.