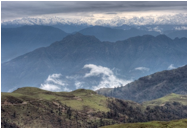 Village Tour (Life & Culture)
12 Days / 11 Nights
Day 01: Delhi - Peharsar
We start our journey to Peharsar, a remote village of Rajasthan famous for its pottery and terracotta products. En route to Peharsar is located Bharatpur village where you'll be taken to Keoladeo Ghana Bird Sanctuary which serves as a habitat for a number of migratory birds. On arrival to Peharsar you'll check-in a hotel for overnight stay.
Day 02: Peharsar - Karauli
After spending a cozy night at Peharsar, the next day you would venture forth to Karauli, a hamlet in Rajasthan much popular for its scenic beauty, architecture and temples. As soon as you reach Karauli, our representatives will accommodate you in a hotel where you can relax for the rest of the day.
Day 03: Karauli - Pachewar
Day begins with exploring the bucolic beauty of Karauli. All the major places of tourist interest would be covered. You'll be taken to one of the most popular tourist attractions, Seethe Kaila Devi Temple, situated 25 kms from Karauli city. Then afterwards you will visit Madan Mohanji temple and later during the day you'll be driven to Pachewar where you'll be checked into a hotel for overnight stay.
Day 04: Pachewar - Bundi
Breakfast at a heritage hotel awaits you on the sixth day of the trip, where you will be treated to a plate full of exotic food, rich in taste and aroma. Thereafter, you'll be taken to Pachewar Fort, which offers a wide range of activities like bird watching, fishing, folk dances and music etc., apart from sightseeing. Once you have explored Pachewar, you'll be driven to the next destination that is Bundi. At Bundi, you'll be accommodated into a hotel for an overnight stay, where you can rest and relax.
Day 05: Bundi - Bijaipur
Bundi exploration marks the major part of the seventh day in your travel itinerary. This would start with visiting the Chhatar Mahal, which is famous for its Bundi murals. Then you'll be taken to Taragarh Fort, Raniji ki Baori and the Phool Sagar Palace which till now is occupied by the predecessors of Rani Nathavatiji. Still further in the day you'll be driven to Bijaipur where you'll be checked-in in a hotel and accommodated for an overnight stay.
Day 06: Bijaipur - Ghanerao
You'll be driven in the morning to visit the majestic Narendra Pratap Singhji's Castle, which is located in the heart of this small village. After the visit to Narendra Pratap Singhji's Castle you'll be driven to Ghanerao where you'll be welcomed by our representatives in a traditional Rajasthani way. You'll be accommodated at a hotel for relaxing and overnight stay.
Day 07: Ghanerao - Rohet
You'll see the historical ruins of Ghanerao before you will be driven to Rohet, another remote village of Rajasthan. During the trip to Rohet you'll also visit the magnificent Ranakpur and the Kumbhalgarh Fort where can witness ample of beautiful art and architecture spread all across the walls and ceilings of these forts. You'll be accommodated in a hotel for overnight stay.
Day 08: Rohet - Garah
After having your breakfast at the hotel at Rohet, you'll continue the tour by visiting Mehrangarh Fort which is perched at the height of 150 mts from ground and while on your way down you'll visit Jaswant Thada, a graceful marble cenotaph of Maharaja Jaswant Singh II. After visiting these places you'll be driven to a heritage hotel in Garah where you would put up for the night.
Day 09: Garah - Khuri
At Garah, you would get the opportunity to revel in the grandeur and magnificence of Rajasthan and its culture. The day would be one-of-its-kind for apart from enjoying the scenic beauty, you would also get an opportunity to make the ship-of-the-desert your mode of transportation. Enjoy the camel ride to Khuri sand dunes, where you will enjoy an overnight camping trip. After a lavish dinner, you can take pleasure in native Rajasthani cultural performances and also be a part of them.
Day 10: Khuri - Jamba
Early in the morning, indulge in a sumptuous open-air breakfast at the Khuri campsite. Once you have satiated your appetite, pack your belongings as our representatives would take you to Jamba. At Jamba, you'll be welcomed by our representatives in traditional Indian style. Thereafter, you'll check in the hotel reserved for you for overnight stay.
Day 11: Jamba - Mahansar
Jamba is a beautiful oasis situated in the middle of Thar Desert. It's a remote destination visited rarely by tourists, so you can enjoy the tranquil atmosphere and scenic beauty of this place. You'll be driven to a hotel in Mahansar during the afternoon where our representative will welcome you and help you accommodate.
Day 12: Mahansar – Pachar- Jaipur
Mahansar offers numerous tourist attraction places that are rich both culturally and ethnically. Once you have seen all of them, a camel ride would be awaiting you. Next, you would be driven to Pachar, one of the remote villages of Rajasthan. On arrival to Pachar you'll be taken to a tour of the Shekhawati Havelis to see the grandeur of the Rajasthani art and culture.
Later drive to Jaipur airport for flight to further destination