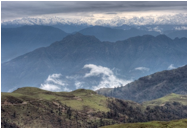 Karnataka & Goa Tour
13 Days / 12 Nights
Day 1: Bangalore
Assistance on the arrival. Traditional welcome with garlanding and hand over stamped picture postcard to each guest on the arrival . Transfer to hotel. Now here will take you to the world of Temples and monuments tour of South India. The art and architect of the temples and monuments has lot to do with the energy of the nature. This tour will certainly bring to you the real impulse of South Indian people, place and culture. Overnight at the hotel

Day 2: Bangalore – Mysore (143 km/2h45 approx.)
After breakfast, proceed to Mysore. Enroute visit Srirangapatna, the island fortress of Tipu Sultan, Sri Ranga Natha temple of Lord Vishnu in the sleeping posture on the Great Snake Anantha, Daria Daulat, Gumbaz an imposing structure where the mortal remains of Hyder Ali, his wife and Tipu Sultan were confined. Arrival at Mysore. Check in Hotel. Visit Mysore Palace ( Palace illumination on every Sunday). Overnight at the hotel.

Day 3: Mysore
Breakfast at hotel. Visit chamundi hill & temple at the top of the hill overlooking Mysore city. Also visit the monolithic Nandi ( Shiva's bull) on return. Evening visit Brindavan garden, the ethnic man made garden with variety of flowers and fountains on the back drop of the river dam that serves the water supply and irrigation to the locals.. Return to hotel and Overnight at the hotel

Day 4: Mysore – Coorg (129km/2h36 approx.)
Morning leave for Coorg . On the way visit Kushalnagar Golden temple, Bylekuppe Tibetan Settlement .Discover Bylekuppe, the second largest Tibetan settlement outside Tibet, complete with a Tibetan monastery with 7,000 monks, a Golden temple, a Tibetan village and a flea market. , Nisarghadhama. On arrival check in hotel. Overnight at the hotel

Day 5: Coorg
Coorg is one hot tourist destination of Karnataka. The Kodagu of Karnataka, popularly known as Coorg famous for its coffee plantation, is a delight to visit in any season or month of the year. Coorg is a culmination of bliss and tranquillity all at one place. The presence of wooded slopes, quaint little villages, the colorful scenery and the undulating and majestic landscapes, makes one feel like one has reached heaven on earth! There is lush greenery everywhere. Not a space of land where there isn't a tree or bush in sight! Full day visit to Tala Cauvery, Baghamandala, Raja's tomb, Raja's seat, Madikere fort and Abbey falls. Evening return back to hotel and Overnight at the hotel

Day 06: Coorg – Hassan – Excursion to Belur & Halebid (126 km/2h30 approx.)
After breakfast at the hotel, drive to Hassan. On arrival at Hassan, check into your pre-booked hotel. Have lunch and then take excursion trip to Belur & Halebid known for temple attractions . Hassan located in the south-western part of Karnataka in India. The district has had an eventful and rich history. In the past, it reached the height of its glory during the rule of the Hoysalas who had their capital at Dwarasamudra, the modern Halebeed in Belur Taluk. The district, noted for its enchanting natural scenic beauty is also a veritable treasure-house of Hoysala architecture and sculpture, the best specimens of which are at Belur and Halebeed. Shravanabelagola, in Channarayapatna taluk, which is studded with Jain monuments, is a renowned centre of pilgrimage for the jains.. In time return back to the hotel at Hassan for dinner and overnight at the hotel

Day 07: Hassan
After breakfast, explore the attractions of historical city of Hassan visiting major attractions like Hasanamba Temple, Indian Space Research Organization (ISRO), District Museum, Suddeshvara Temple, Gorur (a dam & picnic spot), etc. Dinner and overnight at the hotel.

Day 08: Hassan – Hospet – Excursion to Hampi (312 km/6h15 approx.)
Morning, leave for Hospet. Hospet is a town well connected from several important cities in India. Bellary is the closest city from Hospet. Bangalore is eight hours journey on a bus. The city has a well-developed market area. Hospet is a well-known tourist destination mostly because of Hampi which inspires painters, trekkers, hikers and those who enjoy history.Tungabhadra Dam is another asset that makes Hospet a loved tourist destination. Apart from that, Hospet is also pretty famous for its Iron Ore mining and captive steel plants. Hampi is a village in a southern state of India – Karnataka. It is situated within the ruins of Vijaynagar. The ruins of Hampi are UNESCO world heritage site. Overnight at the hotel

Day 09: Hospet – Badami (133.5 km/2h10 approx.)
Have breakfast the hotel and then drive to Badami. On arrival, check into your pre-booked hotel. Spend rest of the day at leisure. Dinner and overnight stay will be at hotel at Badami.

Day 10: Badami – Gokarna (249km/4h30 approx.)
After breakfast at the hotel, explore the attractions of Badami. Key attractions of Badami are Aihole, Pattadakkal, Cave Temples, Open Air Museum, Tipu's Fort, Bhutnath Temple, Banashankri Temple, etc. Early evening leave for Gokarna. Overnight at the hotel

Day 11: Gokarna – Goa (143.6 km/3h25 approx.)
After breakfast at the hotel, visit the colourful Gokarna Market. One can have an Ayurvedic Massage as well in the hotel. Later proceed to Goa. On arrival in Goa, check in hotel. Relax at beaches . Goa, a tiny emerald land on the west coast of India, the 25th State in the Union of States of India, was liberated from Portuguese rule in 1961. It was part of Union territory of Goa, Daman & Diu till 30 May 1987 when it was carved out to form a separate State.A very striking feature of Goa is the harmonious relationship among various religious communities, who have lived together peacefully for generations. Though a late entrant to the planning process, Goa has emerged as one of the most developed States in India and even achieved the ranking of one of the best states in India with regards to investment environment and infrastructure.. Dinner and overnight at the hotel.

Day 12: Goa
Say at leisure for independent activities to explore beaches and churches of Goa. Or relax in the hotel and have Yogic or Ayurvedic treatment.. Overnight at Hotel.

Day 13: Goa – Departure
Take your breakfast at the hotel. Explore attractions of Goa like beaches, churches, colonial homes, temples, etc. In time you will be transferred to the Goa Airport to board flight for your onward destination.