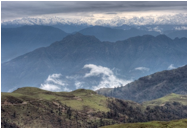 Kerala Backwaters/Ayurveda Tour
07 Days / 06 Nights
Backwater:
Kerala is a tourist – friendly location where tourist swarms in to enjoy the bounties of Nature in her glimmering ways. Backwaters in Kerala are the most interesting tourist destination with its serene beauties coupled by the hustles of tiny brooks and coconut palms. A boat trip in the lake will rejuvenate and create a unique experience of eternal sanctification. The luxurious houseboats are just like hotels, prepare and serve food on the boat and a broad rooftop to relax and enjoy the beauty of nature.

Ayurveda:
Ayurveda, the traditional Hindu system of Medicine, which is based on the idea of balance in bodily systems and uses diet, herbal treatment, and yogic breathing. Ayurveda is the oldest surviving complete medical system in the world. Derived from its ancient Sanskrit roots – 'Ayus' (life) and 'ved' (knowledge) – and offering a rich, comprehensive outlook to a healthy life, its origins go back nearly 5000 years. Ayurveda is not simply a health care system but a form of lifestyle adopted to maintain perfect balance and harmony within the human existence from the abstract transcendental values to the most concrete physiological expressions. Exotic tours can recommend world best Ayurveda resort. This Kerala Ayurveda tour can be one of your best memorable tours, specially experiencing the Ayurveda massage and other allied treatments.

Day 1: Cochin
Assistance on the arrival. Traditional welcome with garlanding and providing a stamped picture postcard to each guest on the arrival to post back home.. Transfer to Hotel. Cochin is a city in the Indian State of Kerala. Also popular known as the Queen of Arabic Sea. Cochin was the centre of the world spice trade for many centuries and finest natural harbours of the world. Afternoon- sightseeing tour of Cochin –visit Hill Palace Museum, Maharaja Palace, take boat ferry to see the old Chinese net fishing and local bazaar. Overnight at hotel.

Day 2: Cochin
After breakfast explore Fort Kochi and Mattancherry, Visit the Jewish Synagogue built over 400 years ago, containing beautiful Belgium glass chandeliers and paved with hand pained tiles from China; the Dutch Palace with its wonderful murals depicting the entire story of Ramayana; St. Francis Church which was the original burial site of Vasco De Gama and which is the first European church that was built in India and the fishing in the fourth Kochi beach using the Chinese fishing nets. Overnight at hotel.

Day 3: Cochin – Alleypey: (55km/1hr approx)
After breakfast proceed to Alleypey. Arrive Alleypey and check in at hotel . Alleypey is an important tourist destination in South India. Backwater of Alleypey are the most famous tourist attraction in Kerala. A town with picturesque canals, backwaters, beaches and lagoon. Lord Curzon had described it as " Venice Of the East". Alleypey is a junction of Arabian Sea and backwaters and hence all kind of water sports and related activities are available here. Spend rest of day in trolling around the city, water shores and backwater boatyards or meeting people in the local fish or vegetable markets. Also one can participate in Yoga activities or Ayurvedic treatment. Overnight at hotel.

Day 4: Alleypey – Houseboat:
After breakfast visit Kuttanad, Chettikulangara Bhagawathy Temple, Arthunkal Church, Krishnapuram Palace, Pathiramanal Island. Afternoon- take boat cruise on back waters of Kerala, meeting people, studing their culture and routine livelihood amid tall coconut groves. Spend night in the housebuat.

Day 5: Houseboat – Kollam:
After breakfast proceed to Kollam . Kollam is a small and beautiful town situated on the Ashtamudi Lake, some 71kms, from Trivandrum, the capital city of Kerala. Kollam is considered as one of the oldest ports on the Malabar Coast and has long been drawing the attraction of international countries. The town served as leading spice market in the medieval and modern India. Major tourist attractions in Kollam include Ashtamudi Lake, Thirumullayaram Beach, Sasthamcotta, and Mayyanad,coir village/houseboat manufacturing centre,. Back to backwater and overnight houseboat.

Day 6: Kollam – Kovalam via Trivandrum City, by road: (77km/1h30)
Proceed to Kovalam by car. Kovalam offer an excellent Ayurveda treatment resorts . Experiencing the walk on sea shore, yoga and massage will do amazingly relaxation on your soul, body and mind. Kovalam is especially famous for its beaches and Ayurveda. You have whole day to do these activities. Overnight hotel.

Day: 7: Kovalam:
After breakfast proceed to touring Kovalam, you will visit Marin Aquarium, Halcyon Castle, Analothbhave, Mathew Church, fishing harbour, Rock cut cave and Chowara. Evening get the Ayurvedic Massage.
Transfer to Trivandrum airport to proceed further destinations.