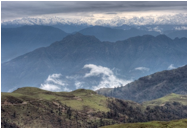 The Eastern Orissa Tribal Tour
12 Days / 11 Nights
Day 01: Arrive Bhubaneswar
Assistance on arrival. Traditional welcome with garlanding and a complimentary stamped postcard will be handed over on arrival to post to your family/friend back home. Transfer to hotel Afternoon- City of Bhubaneswar. Bhubaneswar, capital of the state of Orissa, is home of various temples, A few to be visited are- Parashurameshwara Temple (650 AD), Mukteshwar Temple (7th-8th century AD), Rajarani Temple (1100 AD) and Brahmeswara Temple (1050 AD). The Orissa State Museum, Handicrafts Museum and Tribal Museum can also be visited. Overnight at hotel.
Day 02: Bhubaneswar – Lalitgiri – Ratnagiri – Udaygiri – Bhubaneswar (250kms/6h )
After Breakfast, take an excursion to Buddhist excavation sites of Lalitgiri, Ratnagiri and Udayagiri caves. These three ancient Buddhist complexes date back to the 1st century A.D. and store a great reminiscence of Buddhist culture of bygone days. Return back to Bhubneswar in the afternoon. Overnight at hotel.
Day 03: Bhubaneswar – Pipli – Konark – Puri (130kms/ 3 hrs approx.)
After breakfast, drive to Puri. Visit Pipli and Konark Sun temple on the way. The Sun Temple of Konark is one of the most stunning temples of India. 44 kms from Konark, Pipli is Orissa's appliqué capital. Appliqué is an age-old craft of Orissa in which brightly colored fabrics are stitched over another base fabric in beautiful patterns.On arrival at Puri, check in at the hotel and relax. Overnight at hotel.
Day 04: In Puri
After breakfast visit the Jagannath Temple. The temple of Lord Jagannatha makes Puri one of the four dhamas in India. The temple was built in the 12th Century. You may also visit the Gundicha Ghar and many other temples that dot all over the holy city. Evening relax on the beach or Visit Artisan Village. Overnight at hotel.
Day 05: Puri – Chilka – Gopalpur (240kms/ 6hrs approx.)
After breakfast drive to Gopalpur. Visit the painting village of Raghurajpur en route, Raghunathpur earns its fame from 'Patta Chitra' paintings. Later enjoy Chilka Lake and boat ride on Chilka Lake to Nalaban Bird Sanctuary. On arrival at Gopalpur, check in to hotel. Overnight at hotel.
Day 06: Gopalpur – Taptapani (150kms/4 hrs approx.)
After breakfast drive to Padmanavpur visit to Weaver man's village ancient loom sari weaving then visit of a few south odissan village. Check in at the hotel/guest house at Taptapani. After lunch visit of Jirang Tibetan monastery and Tibetan settlement and life style of the refugee camp. Back to Panthaniwas. Evening enjoy Hot Sulphur water bath in the Resort. Overnight at Panthaniwas.
Day 07: Taptapani – Rayagada (200kms/5 hrs approx.)
After breakfast drive to Rayagada visiting a few desia kondh village( Tribal), Schools and local temples to know more about their habit and habitat. Evening visit of Rayagada local tribal market. Overnight at Hotel
Day 08: Rayagada – Chatikona – Jeypore (Wednesday Tribal market) (270kms/ 6 hrs)
Drive towards Chhatikon in the morning. The most colorful market Dongariya Kondhas tribe in this tiny hamlet is sure to charm you. The market is set up only on Wednesday. Later proceed to Jeypore, the trade hub of the Koraput district. Check in to hotel on arrival. Stay overnight at hotel.
Day 09:Jeypore – Onkudelli – Jeypore (Thursday tribal market) (180kms/5 hrs)
Take an excursion to Onkudelli today. Visit the colorful markets of Bonda, Gadaba and Didayee. Market commences only on Thursday. Post lunch visit traditional Boro-Gadaba villages and enjoy the company of the colorful and friendly tribal's of Orissa. Return back to Jeypore in the afternoon and spend the night at the hotel.
Day 10: Jeypore – Gupteswar – Jeypore (140kms/ 4 hrs approx.)
Spend the first half of the day in a pleasant excursion to Gupteswar visiting Dharua Gond tribal villages of Orissa and the famous temple of Lord Shiva. Gupteswar is a famous cave shrine dedicated to Lord Shiva near Jeypore. It is located at the top of a limestone hill, which is about 500 meters above sea level. Later stop at a pottery village while driving back towards Jeypore. Stay overnight at the hotel.
Day 11: Jeypore –via Aruku valley – Visakhapatnam (220kms/6hrs approx.)In the morning, leave Jeypore for Vishakhapatnam. Also visit Aruku Valley and Vishnu Temple at Simachalam en route. Simachalam is located 15 kms from the city and is dedicated to the half-man half-lion incarnation of Lord Vishnu. The temple bears reference to the Chola and Chalukya styles of architecture. On arrival at Visakhapatnam, check in to the hotel to spend the night.
Day 12: Leave Visakhapatnam Transfer to airport and connect flight for further destination.