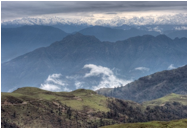 Tribal Tour -1
Starting from Bhubaneswar and ending at Bhubaneswar)12 Days / 11 Nights
Day 01: Friday-Bhubaneswar
Arrival at Bhubaneswar and transfer to Hotel. Full day visit of Bhubaneswar Temples (Parasurameswara Temple, Mukteswar Temple Complex, Rajarani Temple, Lingaraj Temple, Bindusagar) and Caves (Khandagiri and Udayagiri Caves of 1st century B C. Overnight at Bhubaneswar.
Day 02: Saturday- Bhubaneswar / Ratnagiri, Udayagiri, Lalitgiri / Dhenkanal (250kms/ 6hrs)
After breakfast drive to Ratnagiri. Visit the Buddhist Monasteries and Museum, Udayagiri Excavation work and Stupa and Lalitgiri Monastery and Museum. Drive to Dhenkanal visiting Bell Metal work village Bhatimunda. Overnight at Dhenkanal Palace.
Day 03: Sunday- Dhenkanal / Nuapatana / Dhenkanal (100kms/3hrs)
After breakfast drive to Nuapatana Sari weaving village. Meet the people in the village and see their work. Thread making IKET Tie and Dye , Ancient loom, Sari weaving. Back to Palace for Lunch. PM: .After lunch drive to Joranda to see the evening prayer of Sadhus(Hindu Priest). Overnight at Dhenkanal Palace.

Day 04: Monday-Dhenkanal / Baliguda (250kms/6hrs)
After breakfast drive to Baliguda, enroute visiting road side villages to mark and see the differences between the common villages, Semi tribal villages and the tribal villages. The Common Villages are larger in area and population as well as they have division in labour work, where as the Tribal villages are less populated and smaller in area, the people do their own work. Overnight at Baliguda. Hotel Santosh Bhawan ( 2 A C Room 6 Non A C Room) If its a Group,the stay will be at Pulbani, Hotel Arya Palace 10 A C Room and 20 Non A C rooms. This hotel is 200kms from Dhenkanal)
Day 05: Tuesday-Baliguda - Kothagarh - Rayagada (220 Kms-5hrs)AM
After breakfast drive to Kothgarh tribal area. Enroute visit the Kothgarh weekly market to see the Kuttiya Kondh tribal people. These tribal people stay in the valleys and depend on forest product and agriculture, they speak Kuvi, a language derived from the Dravidian strain of Southern India. The practice of Human sacrifice has now been replaced with the animal sacrifice, offering the blood to their supreme goddess represented by a piece of wood or stone to ensure fertility of the soil. The members of this tribe still use bows and arrows to protect themselves from wild animals. Packed lunch will be served on the way to Rayagada.Overnight at Rayagada Sai International
Day 06: Rayagada – Chatikona – Jeypore (140kms/4hrs)
After early breakfast drive to Chatikona to visit Dongariya Kondh weekly market. These tribes on the slopes of the Niyamagiri Hills and depend on Agriculture and Horticulture. The Dongrias live in villages scattered throughout the Niyamagiri hills. They believe that its their right to cultivate Niyamgiri's slopes as it has been conferred on them by The Niyam Raja, and that they are his royal descendants. They have expert knowledge on the forests area,the plants and the wildlife they hold. From the forests they gather wild foods such as wild mangoes, pineapple, jackfruit, and honey. Rare medicinal herbs are also found in abundance, which the Dongria use to treat a range of ailments including arthritis, dysentery, bone fractures, malaria and snake bites. Back to Rayagada hotel for Lunch . After Lunch drive to Jeypore en route visiting a few road side villages. Overnight at Jeypore, Hotel Hello Jeypore.
Day 07: Jeypore – Onukudelli – Jeypore.(160kms/ 5 Hours)
Drive to Onukudelli visit of Bonda and Gadhaba weekly market. (Weekly market us on Thursday)AM: Drive to visit the maket area of the home of the estimated 6,000 members of the fierce tribe, 'Bondas' of Tibetan-Burmese origin. They live on the remote hills and keep themselves isolated. They grow rice by shifting cultivation and keep domesticated cows and goats. The Bondas may only be seen when they come to trade at the local market, and we have timed our visit to coincide with the weekly market. The Bonda women are identifiable by their bead necklaces, striking brass and silver necklets and their clean shaved heads(Bold) decorated with plaits of palmyra leaves. Packed lunch will be served on the way. PM; We will also visit the colorful Godabas, a Munda tribe who speak in the Austro-Asiatic dialect. Overnight in Jeypore.Hotel Hello Jeypore
Day 08: Friday – Jeypore – Kunduli – Jeypore (150kms/ 5 Hours)
After breakfast drive to Kunduli, visit the Kunduli Market (Weekly market is on Friday). Then visit a few tribal villages to meet the Bada Paroja, Sana Paroja and Mali tribes . Hot Lunch at Simliguda.PM: Visit The Jagannath Temple at Koraput ( Here Non Hindus are allowed inside the temple. All activities are similar to the Jagannath Temple of Puri.). and the Tribal Museum. Evening free in Jeypore Market. Overnight at Jeypore Hotel Hello Jeypore.
Day 09: Jeypore – Kothpad village – Jeypore (120kms/ 3 hours)
After breakfast drive to Kotpad to visit the Tribal textile weaving village. In this village they use Cow dunk paste and Vegetable Dye to add color and strength to the thread. Also visit ancient loom and meet the artist in their house/ workshops. Embroidery work . Packed Lunch en route. Evening back to Jeypore. Overnight at Jeypore.
Day 10: Sunday - Jeypore - Gopalpur (360 km / 8hrs)
After early breakfast drive to Gopalpur on sea, enroute visiting a few tribal villages and if interested can visit The Jirang Tibetan Monastery. PM: Arrive at Gopalpur on sea and check in to your hotel. Overnight at Gopalpur.
Day 11: Monday - Gopalpur
Free day at Gopalpur for individual activities. Overnight at Gopalpur.
Day 12: Tuesday - Gopalpur – Chilika Lake – Puri (240kms/6hrs)AM:
After breakfast drive to Puri, enroute visit The Chilika Lake, Asia's largest brackish water lake and the winter home of the Migratory birds. Take a boat ride to visit The Kalijai Island (3 hours Boat ride) or Visit of Mangalajodi to see the migratory birds in Winter. Lunch enroute. Overnight at Puri.
Day 13 : Puri- Konark – Puri 130kms/ 3 hours)
After breakfast drive to Konark, a visit to The Sun Temple and Chandrabhaga beach. The "Konark Temple" is built in the form of a Chariot of The Sun God and is also a UNESCO World Heritage Site, built by King Langula Narasimha Deva in the thirteenth century A.D. in the golden era of Orissan art. This crowning piece of Orissan architecture and sculpture is sheer poetry in stone. Everyday the Sun God rises from the lap of the blue ocean close by and casts his first gentle rays on the sanctum sanctorum and then circles the temple during the course of the day, illuminating the three magnificent images of the Morning Sun, the Mid-Day Sun and the Setting Sun. As you approach the water, you will see rising from the golden sandy beach, one of the country's most vivid archeological treasures -- The Sun Temple. For a millennium, this temple has been a beacon to sailors at sea. European soldiers referred to this edifice as the Black Pagoda to distinguish Konark's temple from the white Pagoda Jagannath Temple in Puri. Despite the fact that the building now lies in ruins, the structure retains much of its former magnificence PM: After lunch drive to Raghurajpur artisan's village to see the Patta Panting and Palm leaf writing. Overnight at Puri.
Day 14 Puri
After breakfast Sight seeing of Puri including Jagannath temple, Bada Danda(Local Market in front of Temple). Gundicha mandir, Swarg Dwar (Crimination ground of Hindus.) Sunar Gourang. Evening see the Beach prayer by Sankaracharya Math. Overnight at Puri.
Day 15 : Puri – Bhubaneshwar
Drive to Bhubaneswar to catch the flight/ Train for onward destination.